[英]哲学论文集Contributions to Philosophy
发表时间: 2013-08-27
点击: 5150 次
我要收藏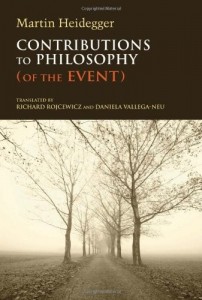 条目内容介绍:
书名: Contributions to Philosophy (Of the Event) (Studies in Continental Thought)
作者: Martin Heidegger (Author), Richard Rojcewicz (Translator), Daniela Vallega-Neu (Translator)
出版社: Indiana University Press (June 11, 2012)
语言: English
ISBN-10: 0253001137
ISBN-13: 978-0253001139
Book Description
Martin Heidegger's Contributions to Philosophy reflects his famous philosophical "turning." In this work, Heidegger returns to the question of being from its inception in Being and Time to a new questioning of being as event. Heidegger opens up the essential dimensions of his thinking on the historicality of being that underlies all of his later writings. Contributions was composed as a series of private ponderings that were not originally intended for publication. They are nonlinear and radically at odds with the traditional understanding of thinking. This translation presents Heidegger in plain and straightforward terms, allowing surer access to this new turn in Heidegger's conception of being.
Review
"Written during the dark years 1936-1938, these Contributions help us to make the transition from Heidegger's masterpiece, Being and Time, to his later thinking. Some of the darkest pages Heidegger wrote are here, and also some of the most brilliant. The translation by Richard Rojcewicz and Daniela Vallega-Neu is judicious and inspired." -- David Farrell Krell, DePaul University
"Contributions is among the most challenging works of our time: rigorous, it is also acrobatic in its leaps and logic; imaginative, it is nonetheless precise; intensely self-reflexive, it engages far-reaching questions. Its greatest challenge though is its language and the new vocabulary it forges. This new translation meets that challenge and so marks a real advance in our understanding of this impossible, yet indispensible book." -- Dennis J. Schmidt, The Pennsylvania State University
"I had tried to study the Contributions before, but I found it impossible. Now, thanks to this new translation, I have access to what may turn out to be the most important philosophical work of our time." -- Bruce Ledewitz, Duquesne University
About the Author
Richard Rojcewicz is Scholar-in-Residence in the Philosophy Department at Duquesne University. He is author of The Gods and Technology: A Reading of Heidegger and translator of several volumes of Heidegger's Gesamtausgabe, including Basic Concepts of Ancient Philosophy (IUP, 2008).
Daniela Vallega-Neu teaches philosophy at the University of Oregon. She is author of Heidegger's Contributions to Philosophy: An Introduction (IUP, 2004) and editor (with Charles E. Scott, Susan Schoenbohm, and Alejandro Vallega) of Companion to Heidegger's Contributions to Philosophy (IUP, 2001).
文章的脚注信息由WordPress的wp-posturl插件自动生成